Make sure you answer all the important questions!!
Brand new eBook and Start-Up Business Kit guides you through the process of planning your business and creating a world class Business Plan!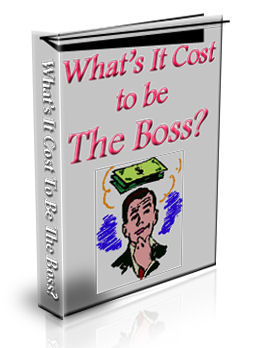 "What Does It Cost To Be The Boss?"

Take the time to find out--you won't be sorry!!
Suggested Price: $37
---
Dear Entrepreneur,
The risks involved with starting a business cannot be avoided but, failure can if you take the time to plan thoughtfully and carefully. If you plan properly, you will increase your chances of success exponentially!! The questions contained in this guide are the crucial items of deliberation for any business, and are designed to help you answer the questions necessary to develop a world class business plan and prepare you to launch a successful business venture. The key components covered in "What's It Cost To Be The Boss?" will guide you as you outline obstacles and develop practical solutions. You'll gain the knowledge you'll need to convince investors that yours is the business to that will make them money!! Topics include:
Internal and External Assessments

Marketing and Sales Plans

SWOT Analysis

Competitive Analysis

and much, much more!!
Included in the package are:
After you have completed the process, not only will you be prepared to present a professional package for funding purposes but, you will be ready to undertake the challenging prospect of running your own money making enterprise. Don't delay, invest in your business right away by ordering this supreme planning guide and launch your business...the right way!! Best of luck to you and remember, "If you fail to plan you are planning to fail!!
Rickie Robinson
Build a Strategic Business Plan and customize it to specifically fit your Enterprise

This eBook contains no hype, no fluff and no overrated promises...just simple, practical ways that you can immediately begin accomplishing your goal of making money!
Take advantage of this opportunity to get your copy of

"What's It Cost To Be The Boss?"

for just

$4.99!
I can honestly tell you that "What's It Cost To Be The Boss?" is a great opportunity to gain the information that you need to prepare a world class business plan and launch your business the right way! Plus this offer is reserved for a VERY limited time only so if you're serious about learning how to prepare a business plan and make money starting TODAY then go ahead and order now!
Hurry...this price is strictly limited to the first 500 customers only!
What's It Cost To Be The Boss?
Your comprehensive research guide to guide your steps to launching your own money making enterprise. Comes complete with financial spreadsheets and suggested resources.